An EPIC Day with Dawn Staley – The RECAP
EPIC for Girls hosted An EPIC Day with Dawn Staley on September 14, 2023 at the newly built College of Saint Mary Fieldhouse. The event was a huge success for this young nonprofit and landed them on the cover of the Omaha World Herald and in pre/post-event coverage by WOWT, Hurrdat Sports and sports' media giant, The Gist.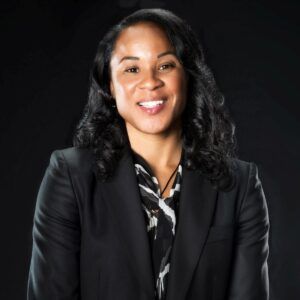 The day kicked off at a seated breakfast with Dawn and 30 individuals from the community and EPIC program partners. We then transitioned to a large meet & greet event where over 100 people got to mingle with the basketball legend while also getting the opportunity to take a professional photo. Dawn's down-to-earth personality and inquisitive spirit led to many great conversations.
The luncheon start promptly at 11:30 with an opening majorette and dance performance by EPIC for Girls partners, I Heartbeat Dance and Pear Tree Performing Arts. The girls strutted their stuff and had the crowd captivated by their acrobatic tricks and intricate choreography.
Kimberly Thomas, EPIC for Girls executive director, welcomed over guests and invited everyone to begin eating. Further, the crowd heard from Event Co-Chairs, Makayla McMorris & Kristi Andersen of and Event Emcee, Taylor Johnson. Carrie Banks, UNO Head Women's Basketball Coach, had the pleasure of introducing the fireside chat moderator, Brenda VanLengen, and the featured guest, Dawn Staley.
Media Requests: Contact Josefina Loza at jlozafina@gmail.com or 402-658-3636.
A Special Thank You to all our Sponsors